Memoirs of a trip to Zheng Zhou
Tse Sihing and I (Alan), represented the Ip Man Wing Chun Association in the second 'World Traditional Martial Arts Festival', in Zheng Zhou, China during October 2006.Although we enrolled to participate in the first festival, we were unable to participate due to business obligations.During the festival, one thought kept on sailing through my mind – "if only I was at the first one!"
On the day of the competition, we arrived at a hotel filled with martial artists from every continent.It was at that moment that I realized our sifu brought us to a truly world class event.
After contacting the local guide, we found out we were to perform the Chum Kiu set and group sparring.The venue was reminiscent of an Olympic stadium.Flags representing different countries were spread across the ceilings and walls.Competitors were scattered around warming up using their style's unique methods -Shaolin, Hung Gar, Tai Chi and Choy lee fut were a common sight.The competition areas were Olympic sized gymnastic areas, matted with green carpets that were under the watchful eyes of 4-5 judges.
The enthusiasm of everyone present was unbelievable.It was obvious that a huge amount of hard work and dedication was put into each and every performance.This was when my nervousness kicked in.We were the only representatives of Wing Chun from Hong Kong, and I felt if my performance was not up to par, I would be affecting the reputation of Sigung Ip Man.
After the judges verified our identity, it was finally our turn to get on the mat.My first impression of the mat was its softness – I was used to practicing the signature pivots and steps of Chum Kiu on solid, concrete floors.I was worried that this would affect my performance.However, I was on the mat and there was no turning back.I took a deep breath, quickly ran over the strict guidelines that sifu made us follow when we practiced Chum Kiu, and hoped for the best.Even after the performance I felt that I was only able to perform at eighty percent of my ability, but what was done is done.At the end of the day I was very surprised to find out that I won a silver medal in my category!It must have been sifu's strict tutelage that I was able to achieve this!
The second day of competitions coincided with sifu's birthday.As my and my Sihings were preparing to step on the mat for our group sparring demonstration, sifu suddenly decided to take part in the demonstration, walked on the mat, and decided to have a 3 on 1 demonstration instead.Jacky sihing and ourselves were the one attacking, and sifu was the one defending.This was completely unrehearsed, and upon commencement, sifu stepped past Jacky and striked me preemptively.As I was gathering myself, he used me as a shield against Jacky and Tse Sihing. Tse Sihing tried launching a high front kick at sifu, who countered with a tan-da entry technique which left Tse Sihing sprawled on the ground.In the blink of an eye sifu was on me again with what I think was a Lap da technique.After he finished me Jacky was just in range for an attack.With only Jacky left sifu focused his efforts on him.Fortunately for Jacky, the exchange only lasted for a few seconds, but those few seconds were an exchange of traditional wing chun techniques.The spectators applauded enthusiastically as the demonstration came to an end.Perhaps because the judges felt that our performance demonstrated the devastating effectiveness and simplicity of wing chun, we were awarded a gold medal for our demonstration at the end of the day.
In the evening, we were in a most famous Chinese restaurant to celebrate Sifu's birthday,the Canadian president Mr. Deng Hua and Venezuela president Mr. Chen JinHui were alsoinvited. We enjoyed the most delicious Chinese cuisine, X/O and beer.
After dinner, "old horse" Fiaz suggested to the karaoke night club (Golden Bright Karaoke ). Unexpectedly, Sifu wasn't only great in ku fu, he could sing romantic English songs with high applaud from all the apprentices and guests. After a few beer and drinks, with nice ladies as companionship, we sang the love songs and enjoyed the most pleasant atmosphere. Perhaps expatriate Michael is quite heavily built, all the ladies may be scared of him so that he was rather difficult to find a good partner. "Fiaz" was very nervous too with sparkled eyes as he could not find his female partnership, after we have the birthday cakes and wishing our Sifu "Happy Birthday and good health" he left alone for sauna/massage, the remaining guests enjoyed the party very much till midnight.
This trip was truly unforgettable.Decades from now when our children and grandchildren speak of this event, I'd be able to tell them exactly what happened, and tell them what an amazing experience it was.
| | | |
| --- | --- | --- |
| | | |
| | | |
| Mok Kei Sun granting presented memorial flags topressmen accompanying the team | | Collective photo after prize granting |





Collective photo after prize granting
Photo of Hung Kam Ming colonel
and the master
| | | |
| --- | --- | --- |
| | | |
| Collective photo after prize granting | | Collective photo after prize granting |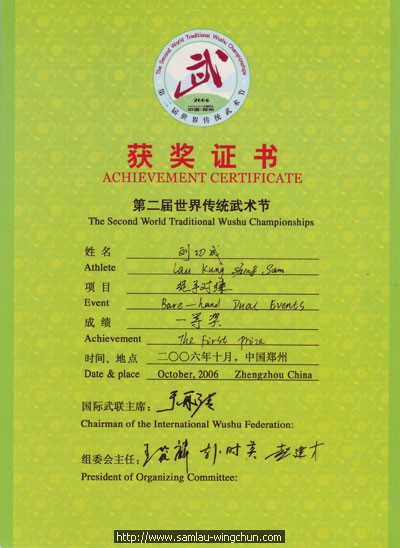 Master Lau Kung Shing won the first prize
in the Second World Traditional Wushu Festaval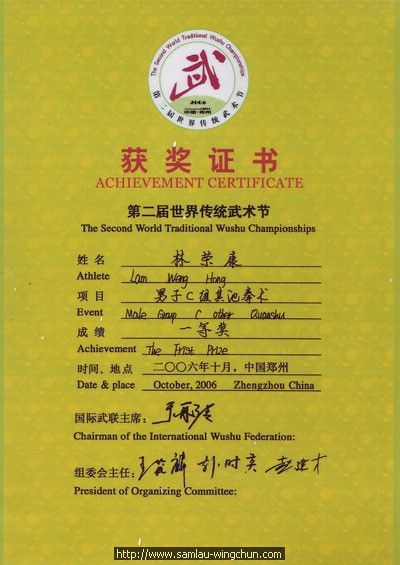 Learner Lam Wing Hong won the first prize
in the Second World Traditional Wushu Festaval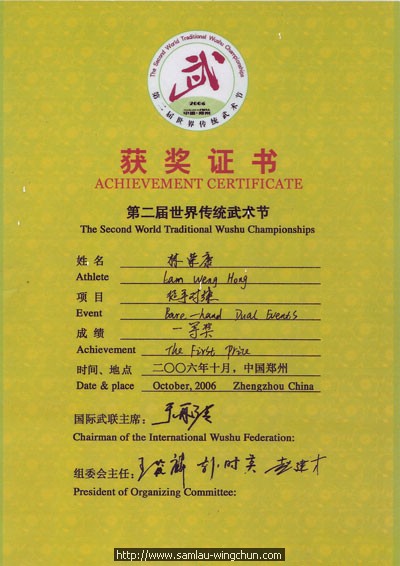 Learner Lam Wing Hong won the first prize
in the Second World Traditional Wushu Festaval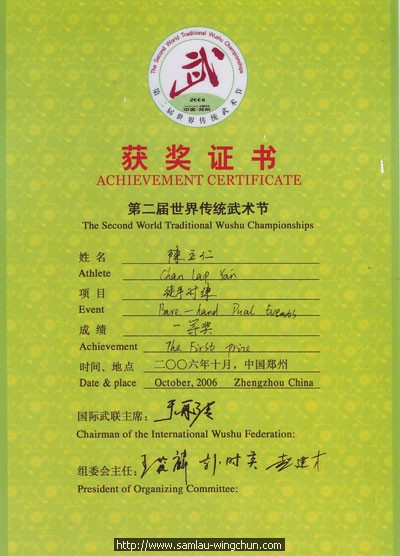 Learner Chan Lap Yan won the first prize
in the Second World Traditional Wushu Festaval